Our company was founded in 2006 to sell construction supplies to general contractors, concrete contractors, grading and paving contractors, civil engineers, landscapers, electricians, housing developers, and maintenance crews, to name a few. Based in Rancho Cordova, we have supplied products to some of the largest construction projects in California, Nevada, Washington, Oregon, and New York at the World Trade Center.
On February 28th, 2009 we became certified as a Women-Owned Business Enterprise (WBE) by the Women's Business Enterprise National Council (WBENC). While we've always been 100% women-owned, we've undergone the rigorous certification process to offer our customers the opportunity to do business with us as a minority contractor. In addition to being women-owned, we are a certified Small Business Enterprise (SBE) through the State of CA, Department of General Service. We are also NDOT certified, DBE certified through Cal Trans, and CUCP certified through Clearinghouse.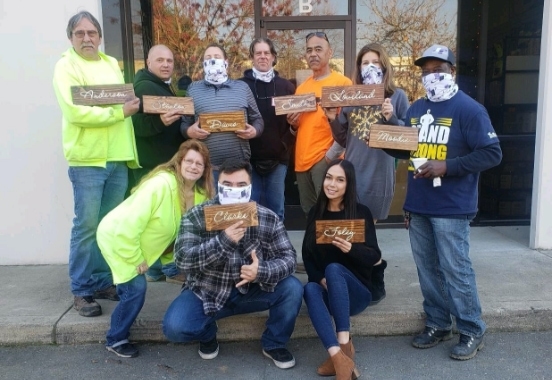 Recognizing the need for environmentally friendly, sustainable building supplies and American-made products in the construction industry, K & K is committed to offering high-quaity products at competitive prices.
If your project is attempting to achieve LEED certification, or you just want to do your part in protecting our environment, K & K Construction Supply, Inc. has you covered! We are dedicated to providing you with all your construction needs. Please contact us to request copies of our certifications if they are required for your project.
Take a glance at our journey so far.
Our grandpa Sof who was unable to read and write, and was told by his teachers that he would never amount to anything, opened S & S Concrete with Sal in San Jose, CA.
Grandpa and his sons, Frank and Charlie Urata partnered up and formed Urata & Sons Cement, Inc. in Lake Tahoe/Carson City, NV. In the 80's they moved the main office to Rancho Cordova, CA.
Karly and Kelly Urata and Tracy Loveland, owners of K&K are cousins and previously all worked together at Urata & Sons Concrete.
Tracy worked for Plant Construction Company in San Francisco, and later left to complete her degree at UNLV with a Bachelor of Science in Elementary Education.
Karly Urata Graduated from Sacramento State University with a degree in Political Science.
Sisters, Karly & Kelly Urata open K&K Construction Supply, Inc. in Las Vegas. Full stocking, 30,000 SF warehouse. Karly ran and operated this location, while Kelly kept track of all the finances.
K&K Construction Supply, Inc. became 100% women-owned, operated and certified as a WBE. We also became NDOT certified.
Cousin, Tracy Loveland came on board as a partner, opening and operating the Sacramento Satellite Office.
K&K Construction Supply, Inc. became SBE and DBE certified in CA. K&K closed Las Vegas branch and continued operating through the Rancho Cordova location.
K&K begins to see more growth, increases in size and begins to target more DBE projects.
Tracy running and operating the business for several years is promoted to Vice President. K&K Construction became members of Sacramento Builders Exchange.
Despite a difficult year all around, K&K held steady, and had a successful year. We became certified in DBE in Utah, Idaho, Washington and Oregon. This year we sponsored and participated in community events. Including – Toys for Tots, Yolo County Food Bank, Cordova HS SRBX 2021 Design Team, Sac State Design Team.
We opened a location in Reno, NV and expanded our Rancho Cordova, CA location.